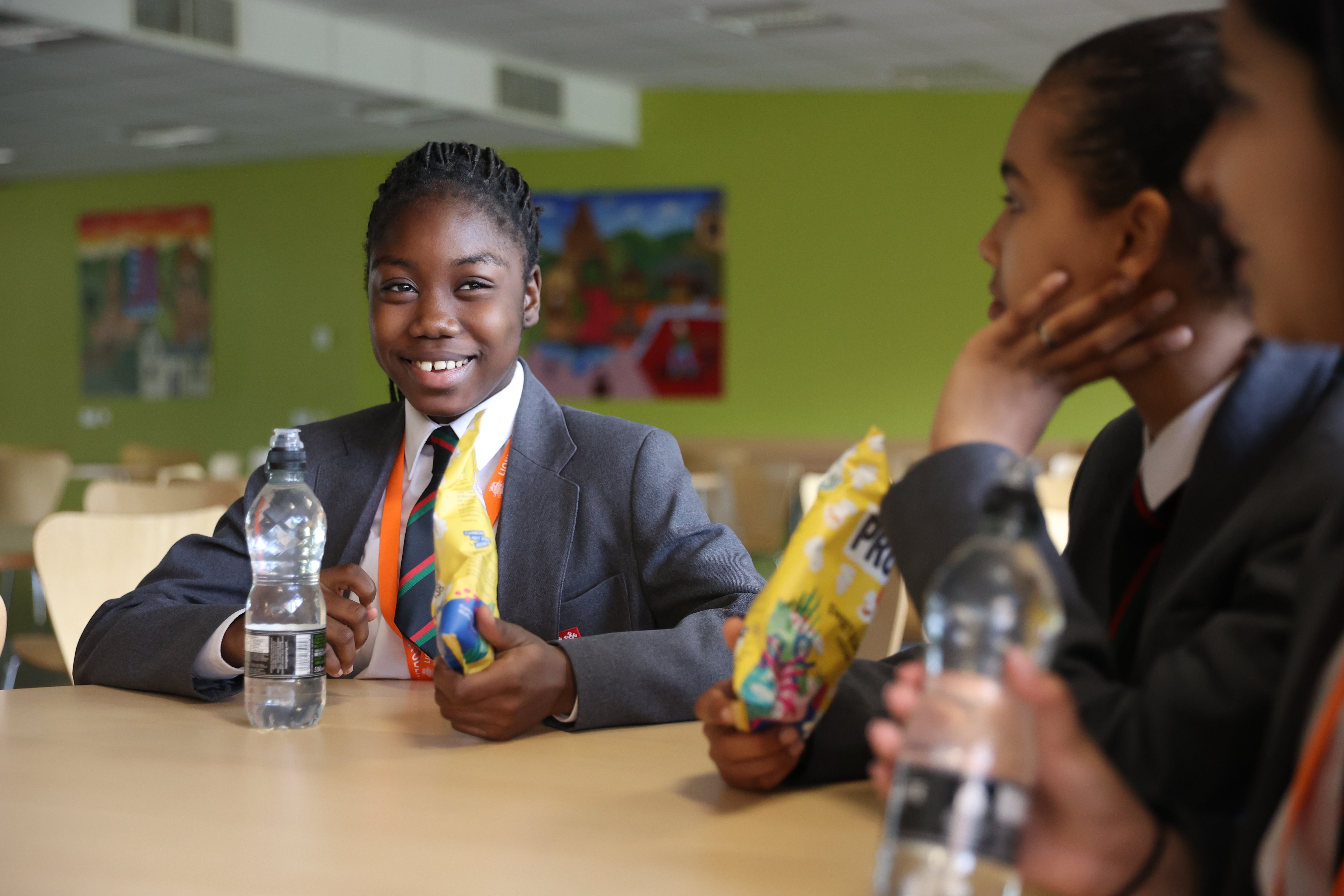 Care and Support
Judgemeadow is fully committed to creating a safe and supportive environment, where all learners are able to achieve their full potential.
The Pastoral Team – including Form Tutors, Heads of Year, Team Leaders and a Vice Principal – takes student welfare very seriously and works hard towards achieving the following aims:
To empower students with the basic skills, experiences, knowledge and attitudes required for work and leisure.
To enable students to become progressively responsible for their own personal and social development, health education and academic education.
To produce an atmosphere in which all students are confident that they are safe, valued, respected and are acknowledged as individuals.
Form Tutors remain with their form for five years, which enables them to build a positive relationship with students in their care and be more aware of any issues which may arise. They are also allocated an hour a week pastoral time when they meet students in their form to monitor their progress and wellbeing and to set specific targets.
In addition, Judgemeadow has a team of Associate Heads of Year, a mentor and a highly qualified 'Open Door' Counsellor who is in College 3 days a week. The Counsellor supports students and helps them to manage their own behaviour.  The Associate Heads of Year and the Mentor work closely with teaching staff to help students who are underachieving.
The College sets clear guidelines to ensure that all students are safe and feel safe. This guidance also extends beyond the confines of the College as we strive increasingly to encourage students to adopt safe practice in the outside world and in cyberspace.

Anti-Bullying
At Judgemeadow we promote respect and kindness to one another. We have a trained team of Anti-Bullying Ambassadors who work tirelessly to support and spread this message. The Anti-Bullying motto for our school is 'Be Kind, Be Brave and Be an Upstander'.
Judgemeadow actively encourages students to report any instances of bullying in all its forms. Information posters showing how to report bullying are on display throughout the school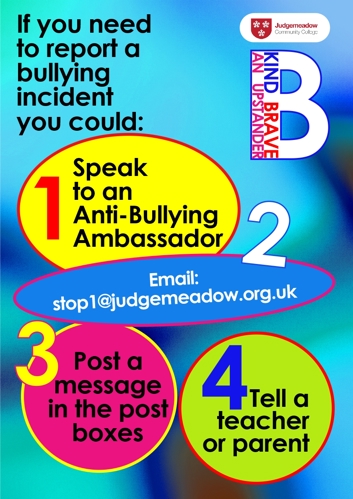 Please feel free to contact Mrs Howgate the Strategic Lead for Anti-Bullying if you have concerns or would like to report a bullying issue.
Sally.Howgate@judgemeadow.org.uk or telephone 0116 241 1920
PASTORAL TEAM
Vice Principal
Mrs H Coles-Hennessy 
Assistant Principal
Miss D Henderson 
Assistant Principal
Mrs E Culverwell
Team Leader
Mrs S Howgate
Team Leader
Mr L Oshungbure 
Head of Year 7
Mr S Mulla 
Head of Year 8
Miss H North 
Head of Year 9
Miss V Khaldi 
Head of Year 10
Mr S Aboobaker 
Head of Year 11
Mr A Baines 
Administration and Support
Data Manager
Daniel Tompkins 
Office Manager
Mrs S Wills
Counsellor
Mrs G Caney
Associate Heads of Year

Mrs D Hay, Miss Claridge, Mr Patel and Miss Stone
LEADERSHIP OPPORTUNITES
At Judgemeadow there are a number of exciting leadership opportunities available for our students to apply for and get involved with. These opportunities are designed to both encourage our students to actively contribute to our school community and also to develop their sense of responsibility and social conscience.
Not only do these skills help our students to make a positive impact in school, they also help to prepare our students for life in the 21st century world.  The leadership posts cover numerous different areas and we always encourage students to apply for at least one post throughout their time at Judgemeadow.
Examples of these opportunities are:
Charity Leader
Member of the Eco-Committee
Lead Learner
Sports Leader
Learning Resource Centre Ambassador
Junior Ambassador
Senior Ambassador

Student Wellbeing
We believe in promoting a positive sense of wellbeing amongst the student body:
"At Judgemeadow Community College there are many opportunities. For example: Wellbeing Ambassador, Lead Learners and, Anti-bullying Ambassadors. This is because we believe in being kind, respectful, being organised and disciplined and being the hardest working. Mental, physical and social health are an important part of our lives, as they help to reduce stress and live a healthy life. A range of age groups you can talk to are in the Languages breakout area throughout the week. Remember that they will always be here to talk and will make sure to help you live a happy healthy life"
- Humaira Farooq, Sara Bassi, Saima Komal, Sneha Khunti (Year 8 students)
Student Wellbeing Passport
Click here to view 12 ways to boost your wellbeing

Overcoming Anxiety
Anxiety is when people feel particularly worried, scared and fearful. Everyone feels worried and nervous at times and this is normal, but when these worrying thoughts start to takeover and you can't get it out of your mind it becomes anxiety. If you are feeling anxious you are not alone. Lots of children (and adults) will have difficulties with anxiety. This booklet offers tips and ideas about managing your anxiety.